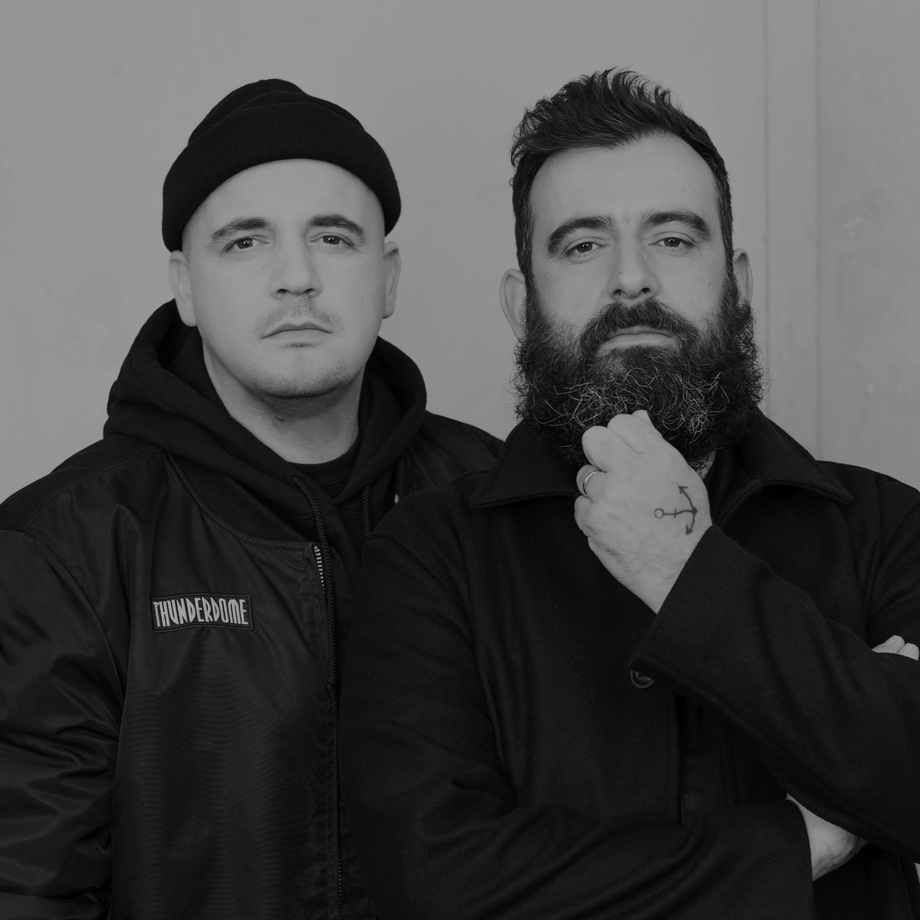 Modeselektor
Territory: Italy
Performance: Live | DJ set
Modeselektor have been shaping the electronic music scene since the early 2000s with their flamboyant DJ sets and genre-melding productions. The duo of Gernot Bronsert and Sebastian Szary formed in the early 90s while they were involved in the rave scene on the outskirts of Berlin. After moving to the post-wall capi- tal, a close-knit community of artists and friends emerged around them, including multimedia collective Pfad- finderei, who developed the visual concept of the famed Labstyle parties the crew held in various Berlin-Mitte clubs since the late 90s. Amongst other things, they designed Modeselektor's famous monkey logo and con- tinue to shape their visual identity to this day, be it live shows or record sleeves.

Modeselektor's first record "In Loving Memory" was released through Ellen Allien's BPitch Control in 2001 and many more followed, including the two critically acclaimed and highly influential albums "Hello Mom!" (2005) and "Happy Birthday!" (2007). With their energetic live shows and offbeat productions encompassing multiple electronic styles, they gained popularity far beyond the techno scene. They started playing some of the biggest festivals in the world and were frequently invited to tour with Radiohead, whose singer Thom Yorke more than once appeared on Modeselektor's albums, as did artists like reggae singer Paul St. Hilaire, French rap crew TTC, Maxïmo Park, Miss Platnum or Anti Pop Consortium.

Modeselektor remixed solo work by Yorke as well as by Radiohead, Björk, Miss Kittin, Boys Noize, Paul Kalkbrenner, Trentemøller and many more.
In 2009, they founded their own imprint Monkeytown Records while also running the more dancefloor fo- cused sublabel 50Weapons. Releases include albums and singles by Mouse on Mars, Siriusmo, Shed, FJAAK, Addison Groove, Cosmin TRG, Benjamin Damage, Otto von Schirach, Redshape, Robot Koch and Dark Sky, and stretch from experimental electronica and bass music to contemporary techno tracks by the likes of Marcel Dettmann, Laurent Garnier, Rødhåd or Paula Temple.

The third Modeselektor album was released in 2011, offering further proof of their ability to infuse contempo- rary dance music styles with an almost natural appreciation of pop elements. Together with Sascha Ring aka Apparat they also released three albums under the name Moderat, which raised the bar for electronic pop music informed by bass music and club sounds. This joint venture turned into a huge success, selling out concert halls all around the globe. After extensively touring for two years, Bronsert and Szary temporarily re- tired Moderat and turned their focus back towards Modeselektor. The last record on 50Weapons was re- leased in 2015, but instead their 90s techno label Seilscheibenpfeiler was revived in 2018 with a couple of strong releases. The fourth Modeselektor album "Who Else" continues their trademark adventures into sound, bass and beats, carrying forward one of the most unique stories in modern electronic dance music.