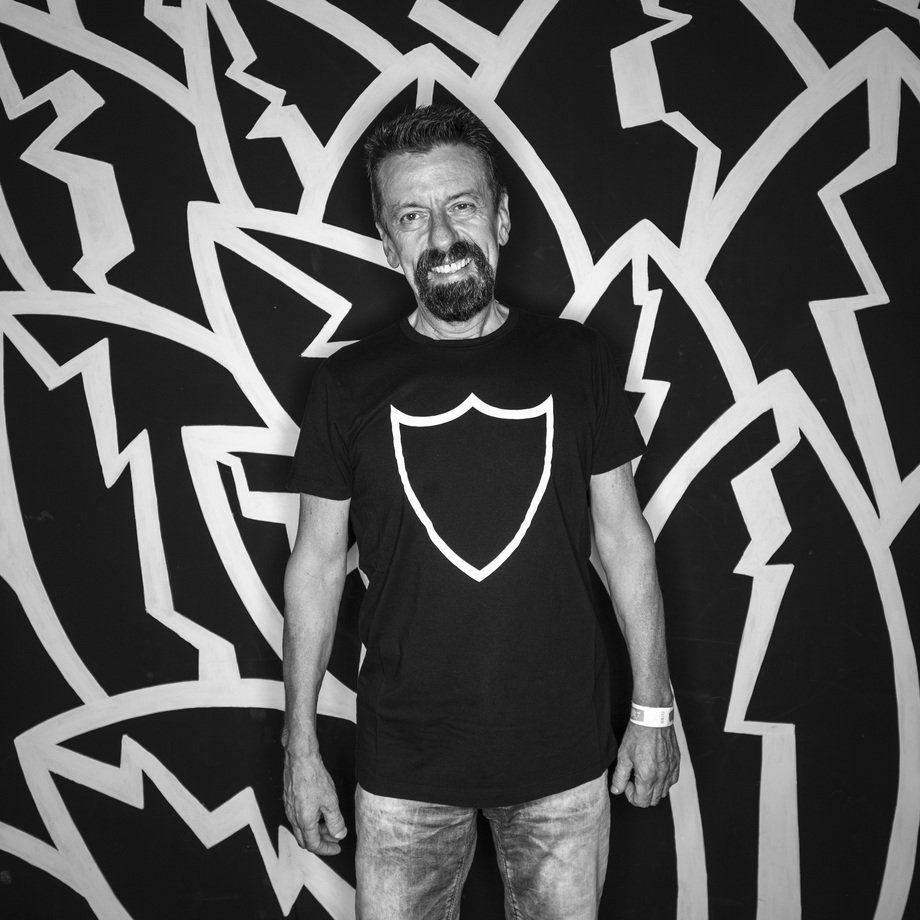 Daniele Baldelli
Territory: Worldwide
Performance: DJ set
Daniele Baldelli began as a dee-jay in 1969 at the Tana Club in Cattolica (RN, Adriatic coast, Italy) and later joined the Tabù Club in 1970.
That time there weren't any mixers, earphones and displays!
The job of the disc jockey was simply to raisen and lower of the two record players available, not having care of the eventual silence gap between two records.
The first records Daniele Baldelli played were of course 45 rpm singles: Ann Peebles, Arthur Conley, Rufus Thomas, Desmod Dekker, Wilson Pickett, Johnny Taylor, James Brown, Booker T., Edwin Starr and Etta James… but also: Stooges, Jericho Jones, Steppenwolf, Atomic Rooster, Steely Dan, Creedence Clearwater Revival, Status Quo, Slade, Gary Glitter…
Having not any model to emulate (he considers himself maybe the eldest dee-jay in Italy) Daniele Baldelli invented by his own his work at the consolle, practically a self-made dee-jay, simply following his passion for music, experimenting new technologies and making use, since the beginning, of the first electronic drums, keyboards, synthesizers and one of the first samplers that had only four seconds of memory!
He feels lucky about having been a dee-jay since 1969 till now. This gave him the opportunity to live, in first person, the history of music and discoteque from its dawning to present. And this also let him collect more than 70.000 vinyl records!!!
Always alternative and futuristic, he worked at hundreds of club consolles.
In 1979 in Italy the Cosmic was opened, a club in which Daniele Baldelli started a musical trend that would deeply mark the Italian underground music movement. Everything developed from 1979 to 1984, and that genre was called "Afro". Of course the term was, and it is, erroneous because what was playing at the Cosmic was a mix of electronic, reggare, brazil, jazz, ethno, funk, new-wave and afro-beat!!!
Daniele Baldelli probably interpreted africanism when he played Ravel's Bolero superimposing it on a track by Africa Djolè, or an experimental track by Steve Reich on which he mixed a Malinke song from the New Guinea, mixing the T-Connection with Moebious&Rodelius, discovering in the Itzito album an ipnotic-tribal track by Cat Stevens, extracting Africa from the Depeche Mode playing them at 33 rpm, or turning to music a reggae voice played at 45 rpm.
By mixing a dozen of African songs on one pattern of electronic drums or playing together a Brazilian batucada with the Kraftwerk, using the electronic effects of a synthesizer in order to superimpose them on some songs by Miriam Makeba, Jorge Ben, or Fela Kuti. And more mixing up oriental melodies by Hofra Haza or Sheila Chandra with the electronic sound of the German label Sky Records.
Actually Daniele Baldelli sets his work up to two directions: one towards funk at 360 degrees (soul, funky 70, future funk, funk&jazz) making use of live players as well (sax, trombone, bass, keyboard); the other one towards only "cosmic sound": electronic, ethnic, afro-tribal, jazz, reggae, fusion… A lot of productions and many Remixes you can find on Sound Cloud and Youtube .
Dates
| | | | |
| --- | --- | --- | --- |
| 02 December 2023 | Milan | Santeria | |
| 15 December 2023 | London | Jazz Cafè | |
| 28 December 2023 | Fortim | Mareh festival | |